Live In A Different, Magical, Fantastic World

DISCLAIMER: I do not claim to own any of these pictures unless otherwise stated. I found them on different sites and I just take time to edit some on photoshop. If you think you own any picture and doesn't want it on this blog, just let me know. Furthermore, some photos/gifs were just reblogged from other tumblr users.



i love you followers!


(c) 02.18.12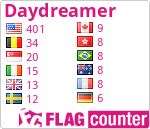 HELLO!
This is a multifandom blog dedicated to this generation's greatest obsessions.

PRETTY LITTLE LIARS
THE VAMPIRE DIARIES
GOSSIP GIRL
SKINS UK
THE SECRET CIRCLE
H2O: JUST ADD WATER
THE HUNGER GAMES
HART OF DIXIE
THE LYING GAME
TEEN WOLF
ONCE UPON A TIME
THE ORIGINALS
RAVENSWOOD
REIGN
BLUE LAGOON: THE AWAKENING
STAR-CROSSED
THE TOMORROW PEOPLE
ORPHAN BLACK
SUITS


FOLLOW. LIKE. REBLOG. :)
If you can't find the tag that you're looking for from the list above, you may type it here:
♡
There's something here, something between us.